Add more to timesheets with comments.
Ask a question, make a comment, or simply provide more information whenever you like.
Add extra information
Sometimes you need to say more than numbers. You can add text to a timesheet in the form of a comment.
Add a comment to remember what happened that week.
Comments read like a conversation.
You can easily hold a short conversation with comments. Tell a person something that is not obvious from looking at your timesheet.
People are required to add a comment when denying a timesheet, so tell the person why.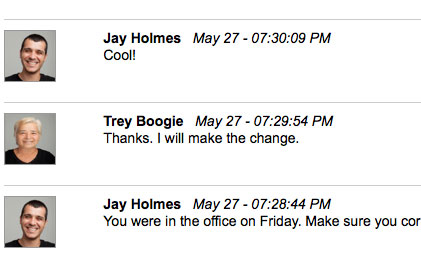 Why WeWorked is the best timesheet software on the web
Start your free trial
No obligations. No credit card required.