Timesheets for Government Contractors
Government contractors must have quality, reliable timesheet software to stay in compliance with the rules and regulations of their contracts, such as DCAA, and to properly invoice, and to remain competitive. Paper timesheets and spreadsheets are no longer suitable for contractors providing services to the federal government. Properly tracking time spent on projects and specific tasks is essential to federal contracting today. However, small businesses must consider more than just the popularity and number of features supplied by many of the leading timesheet software providers. Deltek, TSheets, and WeWorked are used by most government contractors. Yet, all three are very different and not suitable for every small business.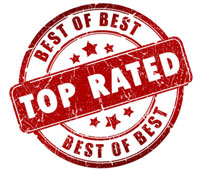 WeWorked
Government contractors look for timesheet software with the perfect balance of simplicity and features at the lowest cost. No need to pay for features that are not required. No need to pay for every little thing like you are dining at an expensive steak house. Find a solution with just the right balance. Less is more in most situations. This is where WeWorked works the best. WeWorked is the leading provider of timesheet software to small businesses and government contractors.
At a minimum, the timesheet software must provide the following benefits:
Simplicity
WeWorked is simple and intuitive. A government contractor's job is complicated enough without adding on confusing and long processes. WeWorked is so easy-to-use that it does not require training. Small businesses are able to sign up and start using immediately. Most other timesheet software requires long demos and hours and even days of training. WeWorked does not.
Affordability
When it comes to the selection of timesheet software, affordability is often the first thing government contractors consider. Most small businesses simply do not have the budget to afford expensive timesheet software. WeWorked offers the most competitive priced timesheet software. WeWorked is less expensive than both Deltek and TSheets.
DCAA Compliance
The real issue arises when you want some changes in the projects timesheet and the software will not provide you the required services. However, with WeWorked there is nothing to worry about because it will have your organization DCAA-ready. Here are some of WeWorked's DCAA features:
Complete audit record of changes
Record time daily
Separation of billable and non-billable hours
Supervisor approval of timesheets
Proper segregation of direct and indirect costs
Encrypted, secure, and safe data
Security and privacy is another issue considered when selecting timesheet software. WeWorked uses the same level of security used by leading banking institutions. SSL 256-Bit encryption is present to keep government contractor data secure and private.
Professional invoice
Another major benefit that you get from WeWorked is generation of professional invoices using the already present timesheet data. Simply select a date range and other parameters and watch your invoice automatically populate. Government contractors can send the invoice directly to the Contracting Officer Representative (COR) for payment.
Expenses
Government contractors should keep detailed records of their expenses for tax reasons and for cost reimbursement purposes. Expense tracking is built in to WeWorked. Staff can easily track receipts and submit expense reports for approval. There is no need to learn or purchase separate software.
Detailed reports
Government contractors should know their resource utilization and who is allocating what time to what project and which tasks. WeWorked allows small businesses to pull this information easily. Create a report in minutes to know how projects are running.
Bottom line
WeWorked provides many more features than listed. Do not overspend for bloated old timesheet software like Deltek or overly difficult and expensive TSheets. No other time tracking software can compete with the features that you get from WeWorked at such an affordable rate. Take advantage of the affordable and simple offering of WeWorked. Move your small business to the next level with WeWorked - the timesheet software for government contractors.
Why WeWorked is the best timesheet software on the web
Start your free trial
No obligations. No credit card required.